Sandblock is a French company created in Q1 2017. We are allowing brands to create their own crypto assets using the Satisfaction Token SAT. Brands can and easily create branded tokens pegged to the SAT and give them as rewards to their customers for loyalty but also acquisition. Sandblock has developed a mobile app available on iOS and Android (30k users) and has a pilot program ongoing with a subset of brands. Crypto Rewards make consumers more engaged because they can exchange them on a marketplace of branded tokens which create a natural referral mechanism. But they can also use them for donations to Charity and also for Consumption Credits with our latest partnership with ETHLend. The Ultimate value is the creation of a decentralized data base of anonymised data which allows brands to personalized their communications. Sandblock has already reached its soft cap during its public pre sale in March 2018.

Features of the Sandblock project
Explore the applications being built on top of the Satisfaction protocol. All those applications will be available for everyone within the consortium.
Businesses · One click subscription
We provide our expertise in blockchain and cryptocurrencies to enable businesses to enjoy the power of the Satisfaction protocol with a classic subscription using fiat currencies.
By subscribing, businesses can implement all the services below in one click and let us purchase Satisfaction tokens, create their Branded tokens and manage it for them.
Eliminating the complexity of the blockchain for businesses which don't have the technical expertise is a key element in the technology adoption.
The blockchain technologies are now mature enough to provide the basis for a new kind of customer experience and Loyalty Program System. Sandblock is a platform of Loyalty Programs based in blockchain technology that will be easy to use and aims to offer the opportunity to customers and businesses to finally benefit seamlessly from the relationship they have built, instead of investing time, money, and effort in extracting value from that relationship. Sandblock Customer Satisfaction Score (CSAT) will provide the overall level of satisfaction experienced by customers with the most simple metric to grasp the essence of business success. This metric will be represented by 5 star ratings similar to the familiar systems used by millions of customers everyday on mobile application stores (eg. iOS Appstore, Google Playstore).
Main features
Their goal is to balance and redefine the relationship between businesses and their
customers by building a decentralized protocol to define, measure, and improve customer satisfaction to the benefit of both sides.
They aim to foster crypto payments by building a reliable decentralized ecosystem, rewarding customers for their engagement and loyalty.
The simple mobile application will allow anyone to use and enjoy the power of the blockchain and cryptocurrencies.
Customers can answer surveys and engage with their favorite brands through games and contests directly within the application.
Novelties
All-in-one loyalty programs in one platform.
Connection of merchants and customers through blockchain technology.
Upholds customer privacy by providing anonymous data to merchants to improve their services.
Ability to create and trade the branded tokens of the merchants' partners or to
confer various rights and capabilities. Companies can offer Brand Tokens and emit coupons, vouchers, loyalty points.
Customers can use or trade Brand Tokens with each other and use freely.
Merchants can enjoy an access to a tremendous amount of anonymous data regarding their customers' behaviors, and use this to improve their services and better understand their customers.
Drawback
Competitors (brands) can quickly identify smarter co-branding strategies or detect drivers behind churn.
Main Net Application V1.0 will be Q3 2018 (Test Net Q2 2017).
Some users use SAT for Satoshi unit abbreviation (1 BTC = 0.00000001 SAT). This is not an official abbreviation but it could create confusion.
Social media presence
Competitors
BitRewards (Pre-ICO): loyalty software, points, miles, stamps, bonuses and gift cards. The project is based on the working loyalty SaaS business GIFTD.
RuCoin: their network called 'One Global Loyalty' aims to be the bridge between virtual currencies of the digital world and world-known brands, bonuses, and discounts of the real world.
Loyaltychain: is a revolutionary digital ecosystem for small and midsize business powered by A.I. to manage customer's loyalty.
Token information
Token = Satisfaction.
Acronym = SAT.
Technology = Ethereum ERC20.
Max.Number of tokens =  55.000.000 SAT.
Currencies accepted = BTC, ETH, bank card (VISA and Mastercard).
Hard cap = $8,000,000.
Token distribution
Crowdsale = 50%.
Partners incentive = 30%.
Team and Advisors = 12%.
Bounty Campaign = 8%.
(Sandblock token distribution, source: sandblock.io)
Funds usage
Marketing and Communication = 50%.
Development = 17%.
Sales and Partnerships = 13%.
Operating Cost = 12%.
Legal and Compliance = 8%.
Pre-ICO
Starts = February 28th 2018.
Close = March 11th 2018.
Token price = 3,750 SAT/ETH.
Bonus = 25%.
Offering = 8,000,000 SAT.
Min. buy = 0.5 ETH, 0.05 BTC, $500.
ICO
Starts = March 28th 2018.
Close = April 15th 2018.
Token price = 3,450 to 3,000 SAT/ETH.
Bonus = 15% to 5%.
Offering = 19,500,000 SAT.
Min. buy = 0.5 ETH, 0.05 BTC, $500.
NOTE = Price and bonus depends on buying date.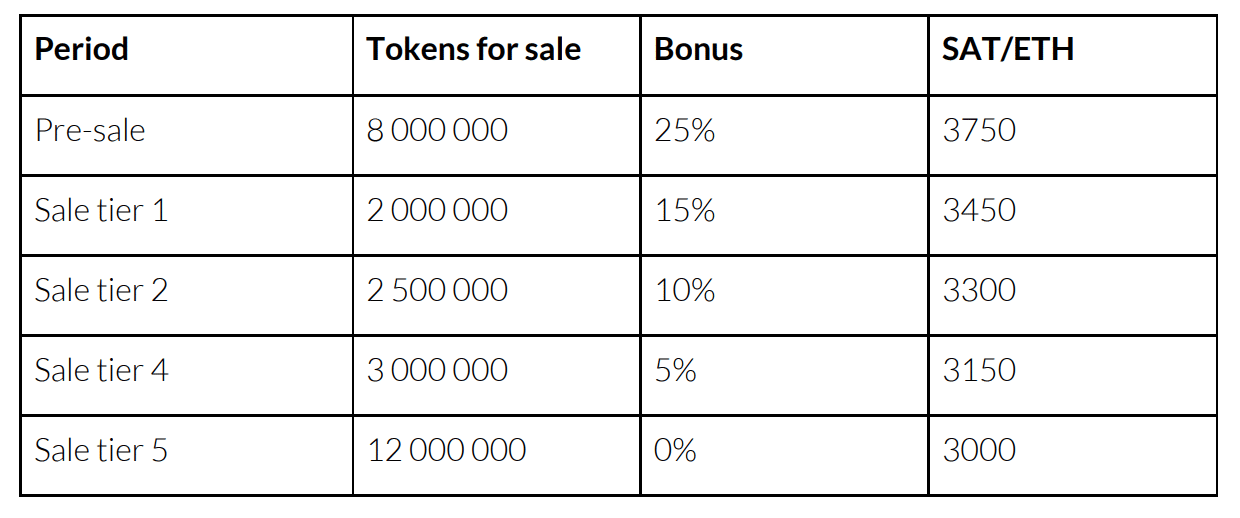 The team
Additional information
Conclusions
With this innovative platform, all the Branded Tokens are pegged to the SAT and will give customers the opportunity to accumulate and use their Branded Tokens to make more purchases to the same merchant, or 'withdraw' those tokens and convert them to SATs or other cryptocurrencies.
MORE INFORMATION:
?? [ANN][PRE-ICO] Sandblock – Decentralized consortium of brands and customers ??
|     WEBSITE     |     WHITEPAPER     |     TWITTER     |     FACEBOOK     |     TELEGRAM     |     SLACK     |